ROOFOVER ADVANTAGES
Stop roof leaks, save on utilities, never repair your roof again. [More...]

PHOTO GALLERY
See before and after photos of some of our projects. [More...]


OUR GUARANTEE
The strongest mobile home roof available. Guaranteed to last for the life of your home. [More...]

IT'S PERMANENT – THAT'S WHY IT'S CALLED PERMA-ROOF
The advantages of a PERMA-ROOF for your mobile home are many. We'd like to tell you about a few of them here and show why PERMA-ROOF from Southern Builders is the best investment you can make in your home. This is a strong, beautiful roof you can rely on for top performance, year after year. We guarantee it!
No more leaky roof. Dripping ceilings and roof damage are all in the past. We use heavy 26- or 29-gauge steel so water simply cannot penetrate your PERMA-ROOF. It's stronger and more durable than any mobile home roof-repair job.
Saves money on utilities. Our satisfied customers happily report utility bill savings of between 20 and 40 percent. With standard two-inch-thick foil-backed polystyrene insulation or an optional thickness of three inches, PERMA-ROOF keeps out the heat and the cold you don't want while locking in the warmth and cool you like. (Polystyrene is the material used in packaging to keep hot foods hot and cold foods cold. It works!)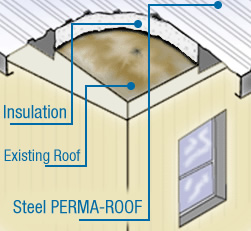 Ultra quiet. PERMA-ROOF's strong metal roof system is not affected by the mightiest winds. With 800 to 1,000 pounds of steel roofing permanently secured to your mobile home, you can say goodbye to jarring roof-rumble that sounds like an army is tromping over your ceiling.
Maintenance-free. No more getting up on the roof trying to fix it or paying for expensive repairs every few years. PERMA-ROOF is guaranteed for the life of your mobile home, because it's far stronger than any traditional aluminum or rubber roofing systems.
Beautiful appearance. People who have PERMA-ROOFs realize a new pride in the way their home looks. It's a sharp, clean roof without any discoloring, fading, tearing or unsightly lumps or bumps.
Patio Covers and Carports. To add to the beauty, safety and value of your home, Southern Builders also constructs exceptionally strong patio covers and carports. We start with a solid metal roof framework supported by steel posts then cover it with high-impact steel sheets. These attractive structures can be up to 24' X 80' with trim colors that beautifully blend with those of your mobile home. Click here to see our photo gallery of patio and carport cover installations.

Southern Builders
since 1983
Call Southern Builders today, and find out how easy it is to increase the comfort, value and beauty of your home with a new PERMA-ROOF. Our friendly staff will be happy to answer all your questions and provide any information you need.
Toll-free: (800) 633-8969